Manchester United started the season with 27 point away from the first spot and ended with 3 points away and a game in hand.
Bruno Fernandes magic? or Ole really is a tactic genius?
All i want to say is we are officially back in the title race and i would definitely start "21 is coming home" after we have won few more games. (kidding)
We were at the 5th place in the start of Jan and went further down to seventh before Bruno's arrival (trust me I'm no "playerFC" person but he is the best thing happened to us this year)
Very few players are able to make the kind of impact Bruno have had after his arrival.
Ending the saddest year with a win has made us all excited but I would love to watch us continue this form and be consistent in Premier League.
It's time to look at how our team has done in the calendar year.
Here are the few factors that made up our year.
Ole Gunner's nightmare: Injuries
Start of 2020 was like living in hell as a ManUtd fan. In the first game of the new year the Reds fell against Mikel Arteta's Arsenal (lol) and questions were raised on Solskjaer's future at the club. However, as the Red Devils gathered themselves in the absence of key players, Marcus Rashford injured his back and was ruled out for a significant part of the season while Paul Pogba was already ruled out.
It felt like the end of the career which had not even started for Ole and the start of yet another cycle which would rip the team apart. (those were the days when I felt vulnerable as a United fan) We had just gotten rid of the negativity and here we were in the same dark tunnel desperately looking for yet another hand to pull us out of it. And Bruno Fernandez entered in our lives. (getting emotional)

Signing of Bruno Fernandes
United fans were relived when the reds finally signed the Portuguese magnifico. He came as a blessing in disguise and quickly became a fan favorite the moment he arrived. Such enthusiasm, motivation to his team mates and never giving up attitude already made him a contender for captaincy.

(Man of his words) Bruno Fernandes said:
"My love of Manchester United really started when I used to watch Cristiano Ronaldo play and ever since then I have been a big fan of this great club. For me to now play for Manchester United feels incredible, I have worked hard to get to this moment and I can promise the fans that I will give everything for the badge to help bring us more success and trophies."
Let the number speak
18 goals and 13 assists, Fernandes has been directly contributed to just over half of Manchester United's 60 Premier League goals since he made his debut.
Those 31 Premier League goal contributions saw Fernandes break Frank Lampard's calendar record for a midfielder of 29, set in 2009.
Since his debut, no Premier League player has more goals (12) or assists (six) away from home than the 26-year-old.
Fernandes has become the first Portuguese player to score 10 goals in a Premier League season since Cristiano Ronaldo in 2008-09. (finally someone to match his stats)
Robert Lewandowski and Lionel Messi are the only players with more direct goal contributions in Europe's top five leagues than Fernandes since the start of February.
If he takes this form to 2021 and be consistent, we can say that he can be the contender of the player of the season award. (I would def vote for him)
Most Goals and Assists Contribution in the Calendar Year 2020:
Lewandowski (30 Goals ⚽+ 5 Assists )
Lionel Messi (18 goals ⚽+16 Assists)
Bruno Fernandez (18 goals+14 Assists)
Cristiano Ronaldo (26 goals ⚽ + 4 Assists)

Among them Bruno is the only midfielder to feature in the list.
Semi final exits
It wasn't all glorious for the Reds, Ole still had to get back to winning ways and that's when the Red Devils suffered a big blow when they lost to Chelsea in the FA Cup semi-final, having lost to City in the semi final of Carabao Cup previously. And things got worse when United were knocked out of the Europa League by Sevilla (heartbreaking) Three Semi Final defeats were a lot to take in but we gulped down the humiliation and moved on.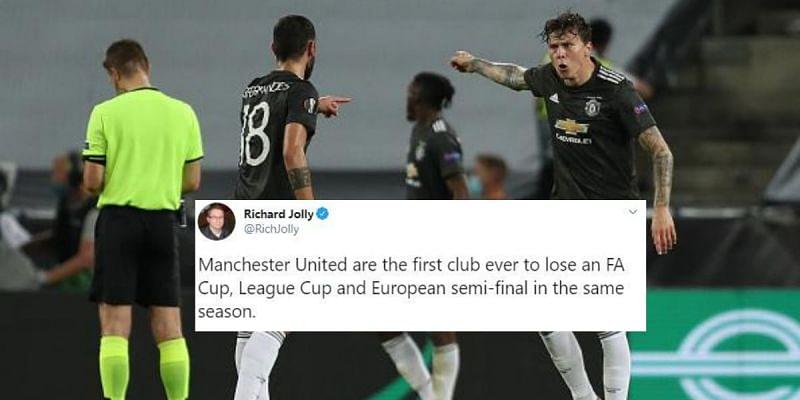 Transfer window: Sancho drama
Jadon Sancho was Solskajer's No.1 priority, but the laid back approach from the Man United board saw Sancho slip out of their hands and stay put at Dortmund for another season. After chasing Sancho all summer and an enquiry to Watford for winger Ismaila Sarr didn't progress, the dead line day kept United busy. The Reds completed the signing of Donny van de Beek, with Edinson Cavani and Alex Telles, along with youngsters Facundo Pellistri and Amad Diallo all in a matter of few hours.
The lack of proper planning for the summer transfers meant that Man United started the season behind their rivals, who used the opportunity to strengthen their squads for a grueling season.
Champions League, a dream.
The Premier League season was a night mare for the Reds how ever the the grass was green in the Champions League. Dismantling PSG again and humiliating RB Leipzig was fruitful but the tides turned quickly and the Reds crash out of the Champions League.
A horrendous defeat in Turkey followed by the PSG stealing a win at home meant that Man United needed a point from their game against RB Leipzig, but eventually fell short and returned to the Europa League. The Champions League dream crashed as quickly as it had started.
Humiliating 1-6 defeat
We do not need a reminder for this, It's printed on our minds. Not even in their wildest dream Jose and his team would have thought they will get to taste such a fruitful win at OT against the team they dream to be. When Bruno Fernandez penalty in the second minute after Anthony Martial was brought down, Man Utd appeared to be on course for all three points. But it doesn't always go as you plan. Within five minutes of taking the lead, Spurs hit back with two goals and things did not get any better for the Reds after that.
Martial's red card was a cue we were defeated long before the FT whistle.
Manager's performance
For the most of his time at United Ole has been questioned about his plans and tactics for the team. Weather you are Ole in or Ole out we have to accept the fact that he has handled the job pretty well till now.
If you keep the cup games aside, from having a terrible started to the league finishing the year on the 2nd place with a game in hand is indeed blissful. The fans have already declared United in the title race.
Ole Gunnar Solskjaer can get the first piece of glory if he manages to take his team through the Carabao Cup semi final against the noisy neighbors and go on to win the cup. Hope we lift the curse off cup semi final and get the taste of glory ourselves.
Over all it wasn't all that bad under Ole. I would definitely give him the benefit of doubt and would love to give this unbearable cycle of manager change a rest.
Comment down your thoughts below.
Manchester United players in the PL
Goals:
Bruno Fernandes- 10
Rashford- 7
Cavani- 3
McTominnay- 2
James- 1
Greenwood- 1
De Beek- 1
Martial- 1
Pogba- 1
Lindelöf- 1
Wan-Bissaka- 1
Maguire- 1
Assists
Bruno Fernandes- 8
Rashford- 4
Martial- 3
Mata- 2
Cavani- 2
Telles- 1
Shaw- 1
McTomminay- 1
Lindelöf- 1
What's next?
United have as many wins as Liverpool in the Premier League and are three points behind with a game in hand. We play Aston Villa next on 2nd Jan, 2021 1:30 am IST.